Big Bend National Park is huge! This crown jewel offers more than 800 thousand acres of wide-open space. There are miles upon miles of hiking trails, back roads, scenic drives and driving tours to explore through the park.
Alpine – get up and go! It's a good idea to get an early start when heading to Big Bend National Park especially during warmer weather. You can also avoid large crowds and longer waits by getting an early start.  
For a look at breakfast options before you head out of town check out the Alpine Texas Eats restaurant guide. You may also want to plan ahead and pack a picnic lunch for you travels. There are lots of grab and go options that have salads, sandwiches, wraps and more that make a perfect picnic lunch! Remember to take extra water with you!
https://www.facebook.com/groups/3263653963701537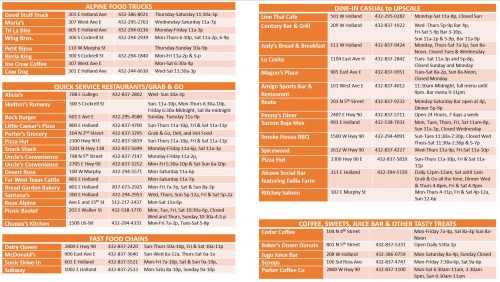 Alpine to Marathon 30 miles on US 90
Along the way…
Picnic areas and scenic outlooks offer amazing views of the Glass Mountains.
Marathon
For a look at things to see and do in Marathon go see our friends at Visit Marathon https://www.marathontexas.com/
We highly recommend a tour of the stunning gardens at the famous Gage Hotel. If you are looking for a place to fish or do some of the areas best birding The Post is a great stop. This small park located 5 miles south of Marathon is the site of Peña Colorado Springs. This year-round spring long-provided fresh water to the Comanche and other nomadic native peoples, serving as a stop on the Comanche Trail.
Marathon to Persimmon Gap Big Bend National Park Entrance 40 miles on US 385
Along the way…
There are several picnic areas along the way but be warned, these do not have facilities! They are simply safe places to pull of the road and stretch, enjoy the view, have a picnic and dispose of trash properly.
You will also see historic makers as you head south toward the north entrance of Big Bend National park. Some are official State Historic Survey plaques and others are part of the "Big Bend Snapshot". These markers are located throughout Brewster County and offer a brief history of the people and events that helped shape the area.
For an in-depth look at the history of the area stop at the Hallie Stillwell Hall of Fame. This is a unique museum devoted to Hallie Stillwell and tells the story of how her and her family struggled to make a life in the rugged west. You can pick up a key for the self-guided tour of the museum from the Stillwell Store.
Persimmon Gap Entrance – Big Bend National Park
The $30 park entrance pass is good for 7 days allowing you to split seeing the park into multiple day trips. If the park entrance is unmanned you can enter and pay the fee at another visitor center in the park interior. Those with a National Park pass, a yearly Big Bend pass, or lifetime pass simply have to show their pass. The Persimmon Gap Visitor Center offers detailed maps, exhibits, a gift shop and restrooms. This visitor center is open seasonally but the restrooms are open year-round. Pro tip- Go to the restroom here! Also make sure you grab the latest edition of "The Paisano," the Big Bend National Park visitor and information guide.
Persimmon Gap to Panther Junction 33 miles on US 385 all paved
Along the way…
As you travel into the park's interior you will have amazing views of the changing landscape along with several roadside exhibits that offer information about the plants and animals that live in the Chihuahuan Desert ecosystem.
Approximately 15 miles from the entrance is Dagger Flats Auto Trail. You can take this self-guided auto trail, for seven miles, to a remote valley where a unique forest of Giant Dagger Yuccas is located. This is a 14-miles round trip tour that is worth it if you love desert flora and fauna. The trail is self-guided but there is an electronic or printed guide available on the National Park Service App for free or you can purchase the printed copy at the visitor center. Numbered posts guide your exploration and show you how to recognize the native plants.
The payoff is a valley full of Giant Dagger Yuccas. To see the Daggers in full bloom you will want to visit in Spring. Also be aware that this an unpaved road, speed limits are 25 miles an hour and you must watch for slow or stopped vehicles. Another warning; as tempting as exiting the trail and taking Old Ore Road may be, DO NOT go down this primitive road unless you are in a high-clearance 4×4 vehicle.
The Fossil Discovery Exhibit is another 10 miles up the road and a must see! You get an amazing look back in time at what Big Bend looked like and what plants and animals lived here 130 million years ago. The open air exhibit is open from dawn to dusk, has a picnic area, is wheelchair accessible and has an accessible vault toilet.
Take note that there is no water available at the exhibit site and the parking area does not accommodate space for RVs and buses to turn around.
Panther Junction – Big Bend Park Headquarters
All the mile makers on the drive here on US 385 were telling you the distance to here, the Big Bend National Park Headquarters. This is the center of the park and a great place to talk with Park Rangers and ask them any questions you have. You can request to see a short video about the park as well. If maps are your thing there is a huge topographic map of the entire park as well as some maps for free and others for purchase as part of the Gift Shop. In addition to books and souvenirs this is where you can get the official Big Bend National Park passport stamp and pin.
Due to the amount of driving you do here in the Big Bend it's important to watch the gas gage! Panther Junction is the first opportunity to purchase gas after leaving Marathon. The gas pumps are a little west of the visitor center. Panther Junction also has restrooms, water for personal containers, a post office and a short Chihuahuan Desert Nature Trail if you are looking to stretch your legs. This may also be the first opportunity to pay your park entrance fee if the gate and Persimmon Gap Visitor Center were both unmanned.
Panther Junction to Maverick Junction (West Entrance) US 118 all paved 23 miles
While this is only 23 miles be prepared for this stretch of the drive to take longer. You will want to take your time to enjoy the breathtaking views as you get deeper into the Chisos Mountains and some of the highest elevation in the park. And again, there are several roadside exhibits that teach about the plants and animals you will see on the drive.
If you want to do a short and very easy trail you can get off of 118 and head into the basin on Chisos Basin Road. While this is a narrow road it is all paved. Once you are in the basin you can go to the Chisos Basin Visitor Center and Chisos Basin Convenience Store. The basin is also home to the only restaurant in the park at the Chisos Mountain Lodge. Always call ahead to be sure they have availability before making plans to dine there.
The basin is also home to the famous "Window". The Window View Trail is entirely paved with benches along the way that make it a great place to take a stroll with an amazing view at the turnaround. It's less than 0.3 miles round trip so it's a great place for people who aren't able to do longer hikes. Be sure to follow the Window View Trail signs and not the Window Trail if you are looking for an easier hike. The Window Trail also offers amazing views but it is a moderate 4.4 mile hike with elevation changes.
Maverick Junction Exit to Alpine 82 miles on US 118
Along the way…
As you leave the park and head north on US 118 you will be in the small towns of Study Butte and Terlingua. Here you will find a great general store that offers a little bit of everything as well as a gas station that also has a small restaurant and convenience store grab and go items. This area is also home to small shops and galleries that are owned and operated by local artisans.
Note if you are wanting to see the Terlingua Ghost Town, cemetery, Starlight Theatre, or Perry Mansion those historic sites are all further west off of Hwy 170 about 10 miles.
The drive north back to Alpine on US 118 will be another treat with more breathtaking views of several different mountain ranges. There are markers on the road letting you know the names and elevations of some of the highest peaks such as, Santiago Peak, Kokernot Mesa and Cathedral Mountain, just to name a few. You will also see Elephant Mountain and the wildlife management area that sits at the base of that mountain. There is a driving tour through the wildlife area that is open May 1 to August 31. For more information click here.
Much like the route headed to the park US 118 has several historic markers along the way that you can stop at to learn more about the area. There are also some beautiful picnic areas that are great to pull off and take in the magnificent views.
About 10 miles from Alpine is a housing development called North Double Diamond and among the houses is some beautiful work of art by metal artist Harry Weekley. He calls his collection of work "One Man's Junk Art Trail" and allows people to come walk through his property to see it. Maps are available at the Alpine Visitor Center.
After North Double Diamond you will come upon "Big Hill". There are pull offs that offer amazing views and great picture opportunities of Alpine from high above.
Back to Alpine
Designated as a Music Friendly City you can find live entertainment nearly every night of the week! Click here to go to the events page to see where to catch a show!
For dinner here in Alpine there are lots of wonderful options. Just to name a few:
Reata Restaurant- an Alpine original with a full-service bar.
Spicewood Restaurant- continuing the true cattlemen's hospitality this is the newest addition to the Quarter Circle 7 Hotel.
La Casita- serving authentic Mexican food in Alpine for more than 40 years.
Century Club Bar and Grill- located right in the historic Holland Hotel this restaurant offers lots of seasonal dishes and drinks.