Wassermann Wranch is family fun at its best! Forget what you've seen at the zoo and petting parks this is so much more than just seeing animals.

The "wranch" is owned and operated by Scott and Heidi Wassermann. " Heidi loves to give families a personal experience, "I LOVE it when kiddos who have no experience around equines take the lead rope of our miniature horse, Spur, and lead him past their parents. The kids beam with pride having never done anything like it before. I like to watch the "quiet and shy" kiddo slip away from the group to pet our gentle, 30+ year old Mammoth donkey, Chewbakkah, and carry on a private conversation with him. I love asking "Who was your favorite animal?" and finding out there was, indeed, a specific animal that touched somebody's heart for one reason or another. "
Having alpacas had been a dream of Heidi's and after Scott made her dream come true that lead them to start their "wranch". "I had wanted alpacas since I was introduced to them in 2001 at a fair in Michigan. Scott bought me a pair for Christmas in 2013. In 2014 we had our first cria (baby alpaca) and again I was inviting everyone to come out and see our newest baby. At this point someone said, "You should charge admission!" And a co-worker asked if she could have her son's birthday party at our place with all the animals; from there, WW—and my dream job—was born."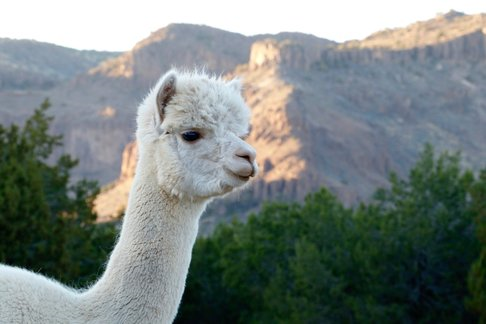 Heidi's love for donkey's started when they received a "free" pregnant donkey in 2010.
"I had been wanting a donkey and was pretty excited when the foal came along—I invited everyone to come out and see it. We quickly added a couple of Mammoth riding donkeys (I learned to ride on a donkey!) and then I saw the rare Poitou donkeys and we became "donkey" people. I am now a walking donkey encyclopedia! I love the donkey intellect and I think learning to work with them has made me a better human."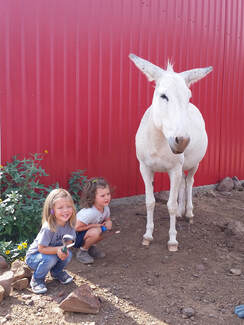 Some of the animals that call this wranch home are Dottie the llama, four different kinds of donkeys, Paisley the kangaroo (and possibly a baby joey) and the adorable alpacas.

Wassermann Wranch is located just outside of town in the beautiful area known as Sunny Glen, the address is 10 Rim Road. They offer guided tours, children's birthday parties and school field trips. Contact the Wassermann's at least 24 hours in advance to make sure they accommodate your preferred times to visit. You can reach them via email, Facebook messenger or phone.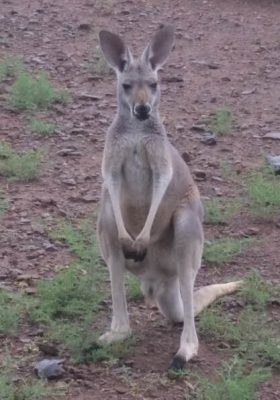 heidihrw@yahoo.com
Message on Facebook https://www.facebook.com/Wassermann-Wranch-695948110452137
432-837-7345
If you can't make it to the wranch but want some great alpaca swag Wassermann's have a store in downtown Alpine featuring alpaca shawls, blankets, socks and many more great gifts and souvenirs. They are open from 1-5pm Friday and Saturday or happily by appointment.