Address: Loop Rd, Alpine, TX 79830
Website: http://alpine.pecosleague.com/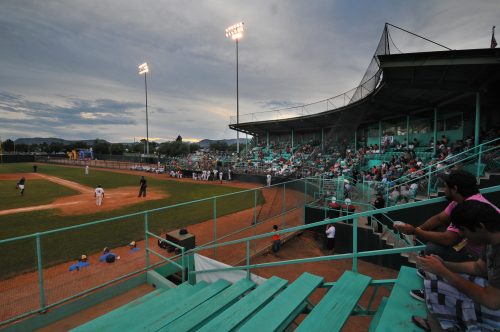 "The 2020 season has been cancelled!! It is with great regret this is happening. We will work hard to get prepared for 2021. Due to a few States we play still in lockdown due to COVID-19, it leaves us no choice but to cancel this season. To all of our players we will miss you and hope that in 2021 we will be the returning Champions in the Pecos League. We will also miss our fans. You are the best!!" GM Kristin Lacy Cavness

It's been their summer tradition since 2013. Victor and Janice Pepka jump in their RV and travel close to 500 miles (or seven hours) from the small town of Whitney for America's Favorite Pastime in Alpine. Even though it's a much shorter distance to watch a Texas Rangers game in nearby Arlington, the Pepkas would rather travel to Far West Texas. To them, watching an Alpine Cowboys baseball game is a special treat.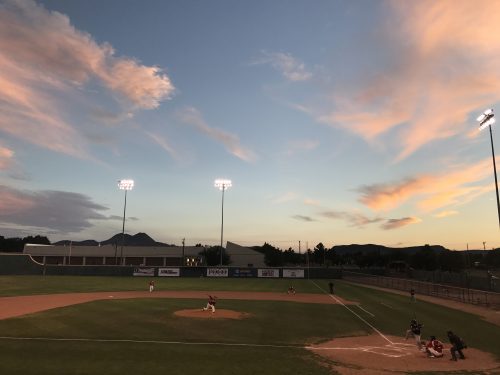 "This is just fun," said Janice.
There's been some embodiment of baseball in Alpine since 1905, but the Cowboys have been a part of the town's history since 1947 when longtime rancher Herbert Kokernot Jr. built a baseball stadium known as Kokernot Field. Kokernot wanted to replicate his field after Wrigley Field in Chicago and used materials from his ranch to add that personal touch. After all, his father told him, if he was going to use their 06 brand on the field, he had better do it right. Rocks from the ranch were used to build the walls. The brand adorns the doors and gates and is used as the team's logo. Kokernot erected lights a couple of years later in 1958.
Located north of downtown, Kokernot Field has been called the "best little ballpark in Texas" by Sports Illustrated. Four flags – an American flag, a Texas flag and two Alpine Cowboys flags – stand tall above the words "Kokernot Field – Home of the Cowboys" at the entrance. There's a car entrance on the first base line where the cars used to pull into the stadium to watch the game. Walking up the ramp to the stands, the field welcomes the crowd with a view of the surrounding mountains that define West Texas.
"This is out in the middle of nowhere," said Kristin Lacy Cavness, Cowboys' current general manager.
Cavness is Kokernot's great granddaughter. Growing up on the 06 Ranch, Cavness got to see her great-grandfather quite a bit, so baseball has always been a part of her life.
"He had a love for baseball," said Cavness.
It was that love that inspired him to renovate the stadium of the Alpine Cats, the town's former semi-professional baseball team, into what would become Kokernot Field and to bring back the team as the Alpine Cowboys in 1947 until it folded in 1961. The Cowboys returned 48 years later in 2009 in a failed attempt as a for-profit professional baseball team before their successful relaunch as a nonprofit in 2011.
"Most of the stockholders were interested in keeping baseball in Alpine that my great-grandfather had done back in the day," said Cavness.
Cavness became very passionate about it as well and as a result, they formed a nonprofit organization in 2011 called Big Bend Community Baseball and Softball. Part of their mission is to restore Kokernot Field. Since the return in 2009, the deep green seats and bright red gates at the stadium and parking lot were painted as part of the restoration. The original wood installed around the high stadium windows were replaced for the first time since 1947. The newest and most obvious addition to Kokernot Field is the 36-foot modern scoreboard that stands behind left field. As part of a beautification project, fans can purchase personalized paver bricks with one of three brands: Sul Ross' SR, Alpine Bucks' A or Cowboys' 06 that will be placed in front of the stadium.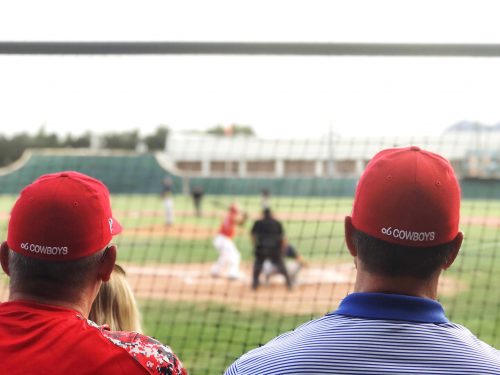 The non-profit also allows the Alpine Cowboys to keep playing and for the field to be used for baseball games and clinics throughout the year by Alpine ISD, Sul Ross State University and other programs in the Big Bend region.
The Cowboys play in the Pecos League, a professional baseball club which is not affiliated with the Major or Minor Baseball League. As the only Pecos League team in Texas, they play against opponents from New Mexico, Arizona, Kansas, Colorado and California. Former Cowboy Austin Prott is the Field Manager and Cavness volunteers 100 percent of her time for her general manager role.
"It's nice to give back," said Cavness. "They're using our tradition and our family name and our brand and that's why I'm so passionate about it. To continue on that legacy."
The season typically starts in late May and continues until the end of July (unless they make the playoffs). The players are recruited from all over the United States and some have come as far as Japan and Puerto Rico.
"They have to be Cowboys," said Cavness. "And by that, they have to be outstanding young gentlemen who have great respect for our tradition and for our community."
Local families host the players in their homes during the season. As a thank you, the families are given season tickets and are recognized during a game.
Games typically start at 7 pm, and as the bright sun sets for the evening, the summer air cools. Visiting fans welcome the weather change, even if it requires a sweater.
"We love the climate out here," said Janice.
She also enjoys buying a Nolan Ryan all-beef hot dog from the concession stands. Fans can purchase most food and drinks that are normally found at a baseball game from Frito pies to burritos with Come & Take It BBQ brisket.
"Cowboy games are just special for visiting people to do," said Victor. "It's hometown-like."
"They've attended more Cowboy games than most Alpine people," said retired Sul Ross Professor Sam Davis.
But Davis himself has also been a regular fixture at Kokernot Field. The baseball fan has by his estimate only missed 10 games since the team returned in 2009, and has been a season ticket holder every year. A perk of having season tickets is that he can reserve his seat before the season starts. He picks the same seat in the middle section that gives him the perfect view of the pitcher.
"I can criticize the umpire from here," Davis joked. "I can see better than he can."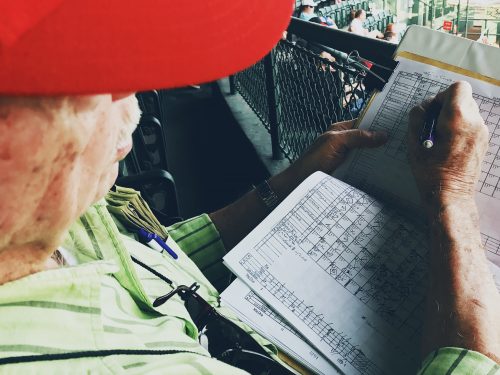 It's not hard to notice Davis with the white binder on his lap. Throughout the game, he tracks every play from both teams on scorecards. He uses a pencil with a long twistable eraser, because he "makes mistakes," and he keeps the pages from the games in a larger notebook at home. This is simply a pastime for Davis.
"It makes the games more interesting," said Davis.
Cowgirl Rubi Losoya keeps the crowd moving with mini-games such as the dizzy bat spin and beach ball bounce in between innings. She runs around the stands to collect money in a cowboy hat whenever a player makes a home run. That money goes directly to the player. This all adds to the small town fun at the baseball game.
"It's just neat to be part of a historical baseball park," said Cavness. 


Article and photos by Sarah Vasquez