The 2022 Texas Travel Awards were recently announced, with Alpine being named the winner in seven categories. Five were broken out by population, with Alpine receiving recognition in the small market category, but two were statewide with Alpine receiving the nod for best Hiking/Biking Trail and best Travel/Destination Podcast in the entire state of Texas! Here's the skinny on all seven awards:
Hiking/Biking Trail (Statewide)
HANCOCK HILL
The trail up Hancock Hill in Alpine, behind the Sul Ross State University campus, isn't particularly challenging or long. So, what makes this spot a must see for so many visitors to the Big Bend region? It's what you find at the top and the story of how it came to be!
In 1981, three Sul Ross students decided they needed a quiet spot to study. Together they carried a large metal office desk up to a secluded spot on Hancock Hill. Soon they were spending many hours there studying and enjoying the beautiful surroundings.

One day, one of them left his notebook in the desk drawer and later found that someone else had written in it. He replied, and a tradition was born. Ten years later, a sizable collection of notebooks filled at the Desk was brought to the Archives of the Big Bend in the university library, which was added to as further notebooks were filled.
41 years after it arrived, The Desk is still on Hancock Hill and thousands of people each year take the hike up to visit The Desk and leave their own thoughts in the notebook.

The network of trails has gradually developed with the assistance of the Big Bend Trails Alliance, now providing approximately 3 miles of moderately strenuous hiking and advanced mountain biking.
Perhaps as a comment on the difficulty of the trails for cyclists, about twenty years ago a damaged bicycle was hung from a tree near The Desk. Other bikes, and even a tricycle, have joined it over the years and created a curiosity that keeps amused visitors pulling out their cameras.
The Hancock Hill trails provide lovely views of Alpine and its surrounding mountain landscape as well as a taste of quirky and affectionate "homemade history".
2. Travel/Destination Podcast (Statewide)
HEART OF THE BIG BEND
Visit Alpine, Texas started the "Heart of the Big Bend" podcast in late April 2021. Episodes are released every other Friday. The episodes include interviews and discussions on a wide range of topics of interest to visitors to the Big Bend region, including:
Big Bend National Park Basics, Part 1 – a history and overview of the national park
Visiting Big Bend National Park, Part 2 – nuts and bolts of visiting the park today
Night Skies in Alpine and the Big Bend – McDonald Observatory and the Greater Big Bend Dark Skies Reserve
Alpine's Downtown Murals – an ever-growing collection of eclectic artworks has blossomed in recent years
Books in the Big Bend – an interview with J.J. Rusz, whose mystery novels are placed in the Big Bend region with meticulous local details, joined by Alpine's independent bookstore, Front Street Books
An important set of episodes offers interviews on visiting our neighboring communities: Marfa, Fort Davis and Marathon. We view the Big Bend region as one big destination with Alpine as a member of that community, so we look for opportunities for cooperation wherever we can find them and share the platforms that we develop to spread the word about our sister communities.
The show is a partnership with Alpine's only commercial radio company that runs KVLF (1240 AM) and KALP (92.7 FM). The radio station produces the audio for each episode and broadcasts the show locally on the same day as it is released to the podcast feed.
While the podcast feed targets the potential visitor to our area, the local broadcast gives Visit Alpine a channel to raise awareness of its activities to local residents as well as to share tips on exploring our mutual home and enjoying it to the fullest.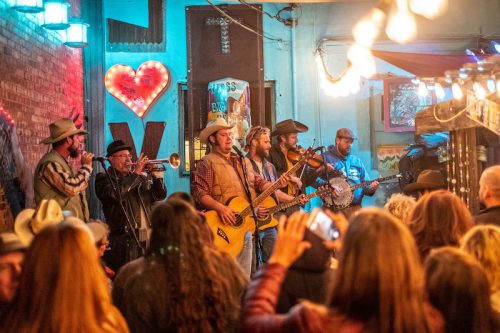 3. Art Festival or Event (Small Market)
ALPINE ARTWALK
Now in its 29th year, Alpine's Artwalk is a two-day art festival held the weekend before Thanksgiving. Originally called "Gallery Night," it was obvious from the first event in 1994 that this collective open house for artists was something special that provided the people of West Texas a reason to get dressed up and come take in the culture.

As the event matured, it has become a combination of a community-wide art open house, street fair and music festival. Now, 20-plus business locations around downtown Alpine host exhibits of local and visiting artists in a wide array of media. Each year a local Honored Artist is selected, their work is highlighted in all event promotions and a central location features an exhibit of their work.

Street vendors lining the downtown streets offer an array of foods, crafts lend a holiday atmosphere. And while enjoying the art throughout Downtown Alpine, guests are entertained by dozens of live performances at multiple stages, with headlining bands taking over on the main stage as the night settles in.

Alpine has long been a place for artists to live and share their work with the community. Sul Ross State University was home to an Art Colony dating back to 1932. Artwalk's 501(c)(3) nonprofit honors and encourages this heritage with art scholarships at Sul Ross State University and Alpine High School and art supply funding for other area schools. The festival also hosts an art silent auction that benefits operations of the Alpine Public Library and is the single largest library fundraiser each year.

A significant series of large-scale murals have been commissioned and funded by the Artwalk nonprofit, starting a wave of artistic activity that has blossomed in recent years into a public art display receiving recognition in statewide media and the Texas Travel Awards!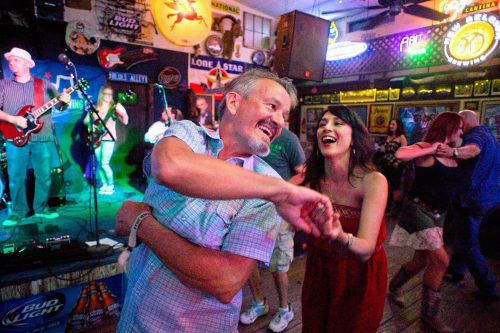 4. Music Festival or Event (Small Market)
VIVA BIG BEND
Alpine, Marfa, Fort Davis, Marathon, and Terlingua
Viva Big Bend must be the biggest small music festival anywhere, filling almost every stage in five communities across three of Texas's largest, but least populated, counties every July.
A project of Texas Music magazine in partnership with the communities of Alpine, Marfa, Fort Davis, Marathon, and Terlingua, each year Viva brings 60+ live performances spanning multiple genres to the Big Bend region.
Unlike most festivals that bring their audiences to a large central area, Viva Big Bend puts a focus on supporting the local venues that are the backbone of the music industry year-round, booking acts for 10+ stages each year. Popular statewide acts share stages with local favorites, fostering new connections and making a rich musical stew for the venue- and town-hopping visitor.
The festival maintains a balance of ticketed and free events, offering afternoon music in several venues at no cost throughout the four days of the event. Special children's shows are also scheduled each year.
The distance between the towns and their venues—for example, more than 80 miles between Alpine and Terlingua—is an asset rather than a drawback, as the scenic desert mountain drives between the towns immerse festival-goers in the Big Bend landscape, as much a part of the event experience as the music.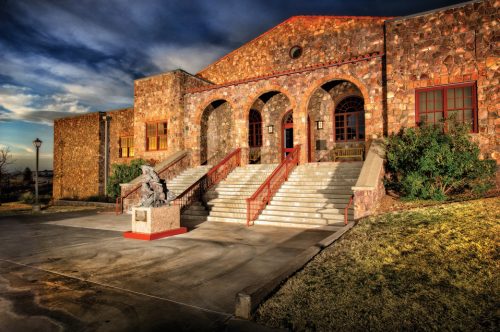 5. Museum (Small Market)
MUSEM OF THE BIG BEND
The Museum of the Big Bend is a first-class institution, in an entirely different league from your average small-town historical museum. A part of Sul Ross State University, the museum is housed in its original building on the SRSU campus, a stone Civilian Conservation Corps structure dating from the 1940s and immaculately renovated in the early 2000s.
The exhibit quality is in keeping with its peers in much larger cities, and the content makes the museum a must-see resource for first time visitors to the region. "Big Bend Legacy," the permanent exhibit, tells the story of the region's prehistory and history thoughtfully and from multiple perspectives.
An annual calendar of seasonal art exhibits brings top-quality painting, photography and more to the region. Their annual "Trappings of Texas" exhibit and sale, at 35 years and counting, is the longest-running show of premiere contemporary western art and custom cowboy gear in the nation. Significant past exhibitions have included collections of work by notables such as Frederick Remington, Charles Russell and El Paso's Tom Lea.
A signature asset is the Yana and Marty Davis Map Collection, containing hundreds of original documents dating back to the sixteenth century. A small selection is on permanent display and everything in the collection is available to anyone for viewing by appointment.
Construction is underway for a Museum Complex expansion offering greatly enhanced exhibit and event facilities. In 2022, True West magazine named the Museum of the Big Bend one of their Top Ten Western Museums in the US.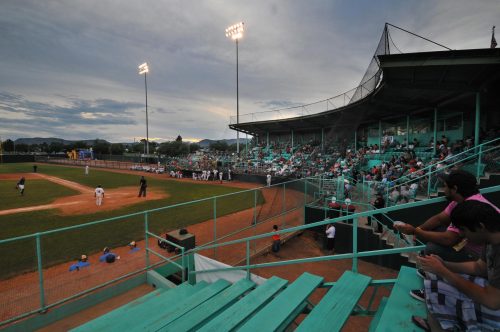 6. Sports Venue (Small Market)
KOKERNOT FIELD
Alpine's Kokernot Field is a small replica of Chicago's Wrigley Field created from local granite with beautiful iron detailing, and was once called "The Best Little Ballpark in Texas (or Anywhere Else)" by Sports Illustrated.
Herbert L. Kokernot, Jr., owner of the expansive o6 ranch, was the driving force behind a golden age of Alpine baseball, beginning with his purchase of the Alpine Cats semipro team in 1946, which he renamed the Alpine Cowboys. Kokernot decided that the team (and the town) deserved a new stadium, which would be "second to none." When the field opened in 1947, Kokernot had spent $1.25 million (more than $18 million today).
Some major league all-stars got their start playing for "Mr. Herbert," such as Gaylord Perry, who played a summer for the Cowboys before going on to a career 314 wins in the majors. in 1951, Kokernot brought Satchell Paige and the St. Louis Browns to play an exhibition game against the Chicago White Sox to the delight of the Alpine crowds. Jim Fregosi, 18-year major league veteran and all-star shortstop for the California Angels, recalled Kokernot Field: "it was amazing…the best ballpark I ever played in."
The Alpine Cowboys were active from 1947-1962, transitioning from semipro to a minor league professional team, and then disbanding when their league system shut down. The ballpark deteriorated over the next couple of decades until Sul Ross State University undertook a major restoration project in 1983.
In 2009, the Alpine Cowboys reformed as part of the independent Pecos League and have competed well each season since then, providing all of the charms of small-town baseball for visitors and local residents alike. And in both 2012 and 2019, they brought League Championship trophies back to Kokernot Field, carrying its creator's vision forward into a new century.
7. Under the Radar Activity (Small Market)
HISTORIC ALPINE GHOST TOUR
The Historic Alpine Ghost Tour is an inspired collaboration between the Alpine Historical Association and the Sul Ross State University Theatre program. The one-mile walking tour provides an entertaining local history lesson for ghost-chasers 8 years and older.
The carefully curated tour combines local folk lore and ghost stories, theater, comedy and the documented history of Alpine, Texas.
Tours begin at the Reata Alpine, with a "spooky drink" from the Reata bar, and are led by Bret Scott, Associate Professor of Communication at SRSU who spent a decade at Second City in Chicago.
Stops at historical landmarks such as the Brewster County Courthouse, the Alpine Avalanche Building, and the Ritchey Hotel are enlivened by occasional glimpses of restless spirits some of who gain the courage as the tour progresses to share their recollections of some of the dramatic historical events of Alpine and the region.
"The tours are intended to promote the rich history of Alpine while also enjoying some ghost stories from the Big Bend region," said Marjie Scott, Ghost Tour director and Chair of the Sul Ross Fine Arts Department. "And there may be some actual ghost sightings too."
All proceeds from the tours provide funding for SRSU Theatre scholarships.
Their first tour kicked off in October 2021 and raised almost $2,000 for theatre scholarships. Additional Tours are planned for April, July, and October 2022.