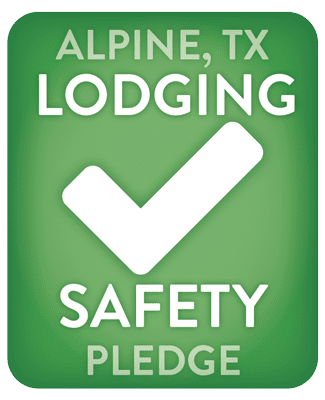 The COVID-19 pandemic has affected every part of our lives, and we are all trying to find ways to take care of our day to day needs as safely and responsibly as we can.
This can be tricky enough at home, but when we need to travel it is that much harder to know what to expect and how to best protect the health of ourselves and our families.
The City of Alpine has partnered with the Texas Hotel and Lodging Association and our local hoteliers to collect the best practices and ideas for sanitation and social distance into a Lodging Safety Pledge. Click here to see the complete Safety Pledge.
The participating businesses below are committing to provide at least this level of security for all of their customers. Look for the Alpine Lodging Safety Pledge badge at our participating hotels.
And you can review our #SafeTravels page for more tips on what to expect when traveling to the Big Bend region
HOTELS
America's Best Value Inn
Americas Best Value Inn, located in Alpine Texas, was formerly known as Sunday House Inn. Whether here on business, vacation or just passing through, we are dedicated to make your stay as pleasant and comfortable as possible.
Antelope Lodge
The Antelope Lodge is a 1950's motor court, one of the first motor court motels built in West Texas and one of the oldest hotels in Alpine.
Hampton Inn
Reserve one of our 64 guest rooms or studio suites featuring king-sized or queen-sized beds; studio suites offer a whirlpool, wet bar or sofa bed.
Holiday Inn Express & Suites
Make yourself at home in one of the 71 air-conditioned rooms featuring refrigerators, microwaves and flat-screen televisions. Recreational amenities include an indoor pool, a spa tub, and a fitness center.
Holland Hotel
Welcoming visitors since 1928, this Trost & Trost masterpiece offers a unique piece of West Texas history, and also serves as the epicenter of the Big Bend community for locals and travelers alike.
The Maverick Inn
A 1940s-era motor court re-imagined as a boutique motel with luxury amenities. "A Roadhouse for Wanderers".
Value Lodge
The Value Lodge is located right next to Sul Ross State University and is close to restaurants.
All rooms feature complimentary cable TV.
BED & BREAKFAST
Alpine Bed and Breakfast
Alpine Bed and Breakfast is a 124-year-old single-story, historical home 3 blocks from the heart of Alpine.
GUEST RENTALS
19th Hole Suites
This property is secluded, inside the city. Across the street is the city's two mile walking path which travels around "the loop." Downtown Alpine is less than a mile away!
Suite A | Suite B | Suite C | Suite J | The Big House
Alpine Creek Cottage
Alpine Creek Cottage was originally built on the 1920's with a small room added in the 1940's. It is a quaint little cottage tucked right up against Alpine Creek. Alpine Creek runs through Alpine and serves as a thoroughfare for wildlife, including deer, javelina, and fox.
Alpine Creek Cottage 1 | Alpine Creek Cottage 2
Alpine Guest Lofts
These private ground level loft-style units are located in the heart of downtown Alpine Texas. The building was constructed between 1908 and 1912 and features original tin ceilings, and funky plaster!
Alpine Guest Quarters
Located in the heart of downtown Alpine, the Alpine Guest Quarters offer 3 full apartments each with living rooms and kitchens.
Brewster County Lodging
Choose from a stylishly furnished modern cabin in a quiet, north side neighborhood, or a tiny, secret hideaway hidden in the middle of downtown.
Candelilla Cottage
This relaxing home away from home that features a king size bed in a well appointed bedroom as well as private bathroom, well equipped kitchen and dining room. Outdoors is a private patio with gas grill and a dining area.
Casa Blanca
Casa Blanca is a private apartment located in one of Alpine's most established neighborhoods just a few blocks away from main street.
White Brush | Nopal Suite | Yucca Suite
Historic Bottle House
The Historic Bottle House, in a former "Bottling Works" plant (1890 – 1920) is a spacious and luxurious, completely renovated, modern home.
Lockhart Hacienda
From hospital to hospitality! Lockhart Hacienda is the center portion of a hospital building built in 1946. Located 3 blocks from center of Alpine.
El Nido
El Nido (The Nest) is a detached private peaceful sanctuary with beautiful gardens, hot tub and fire pit.
Purple Door Guesthouse
Welcome to Purple Door Guesthouse – the little house with big personality. The two-bedroom, full kitchen, living room, full bath, and laundry room offer all of the amenities you will need while visiting Alpine.
The Silver Casita
The Casita is located three blocks from downtown Alpine and features a privacy fence, carport, satellite TV and Wifi.
Wayfarer's Cottage
Wayfarers' Cottage is a charming home away from home that features a king size bed, a well-appointed kitchen, and a comfortable and cozy living space.

NOTE: The Alpine Safety Pledge programs are a commitment by the participating businesses to adhere to a set of policies. Each business is responsible for its own management and oversight of these policies. Regardless of policy, it is impossible to guarantee any specific health outcomes for individual customers.